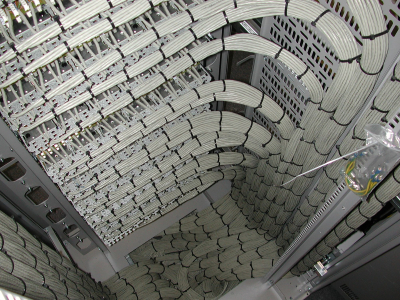 Structured voice and data cabling using Ethernet or fibre optic technology forms the backbone of your company and its communication network infrastructure. We can support your voice and data network cabling needs at every stage of the lifecycle, from design to implementation and maintenance. Structured cabling systems are often taken for granted as they act as an invisible utility and are constantly under pressure as bandwidth requirements and network complexity increase.
With the advances in data storage, Voice over Internet Protocol (VoIP) and the adoption of unified communication platforms, it is critical that you can provide your organisation with scalable, high-performance cabling to maintain an efficient data, voice and video-ready computer network.
Our detailed site surveys take a strategic view of each building, ensuring maximum flexibility and productivity in the positioning of equipment such as telephones, servers, computers and printers.Whether we install a single network point, or a complete new structured cabling system, our planning allows for expansion and repositioning, potentially to yield significant future savings.
Great communication from the install team, worked safely. ABP, Hull